Meet Our Donors
We thank all our planned-gift donors for their generous support. Here are some of their stories.
Clark Hersey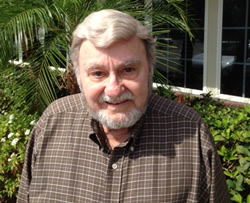 I have chosen to purchase a Charitable Gift Annuity as Asbury Seminary because Asbury always produces pastors that preach the undiluted Word of God. Those pastors are interested in leading their church members into the Kingdom of God. I was first introduced to Asbury Seminary 25 years ago by my United Methodist Church Pastor in West Palm Beach, Florida. He was an Asbury Seminary graduate. I wanted what he and his wife had, which I later found out was found in the baptism of the Holy Spirit. Since then I have been supportive of Asbury Seminary because their alumni deliver God's Word, undiluted, to the glory of God!
Charles and Sharron Nelson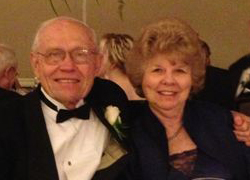 I served as Comptroller for the Florida United Methodist Children's Home in the mid-1990's. One of my assignments was to keep the accounting records for Charitable Gift Annuities and Charitable Remainder Trusts, which had been given to the Home. I learned quite a bit about these instruments. I liked the Annuities better, because they seemed simpler and more understandable to me.
I first heard about Asbury Seminary at the Methodist Men's retreats at Leesburg. ATS always had an exhibit there and provided numerous speakers. One of the first speakers I heard was Dean Mulholland. He was a very good speaker, as were all the other ATS persons.
My father died in the late 1990's and my Mother a few years later. I received a certain amount of cash as each of their estates was settled. With the concurrence of my wife, I decided that I would provide these funds to ATS in a charitable gift annuity, with dual lives covered. We would receive an income from these funds during our lifetimes and then the remaining balance would go to ATS. I have been very satisfied with this arrangement over the years.
When I was growing up in the Methodist Church, we would have a local church revival each summer. As I look at the condition of the world today, I know that the entire world desperately needs a revival and the sooner the better. I sincerely believe that the only way that world-wide conditions can ever improve significantly is for there to be a global revival, where the Gospel of Jesus Christ penetrates the hearts, minds, and souls of people everywhere. I believe that there is no better organization I can support, as I hope, pray, and constantly look forward for that world-wide revival.
Mrs. Donna Wood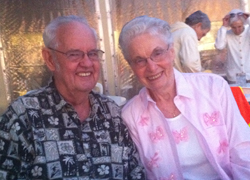 Before her first husband's death, he often expressed his desire to help those who felt the call to the ministry but could not financially afford it. "I am so thankful," Donna Wood says, "that I have found a way to fulfill his desire and leave an inheritance for my loved ones as well." The income has been helpful to her. Upon her death, the monthly income will continue to go to her loved ones, whose names appear on the annuities with hers. "I have found Asbury Seminary associates to be pleasant, helpful and easy to work with. What better could I do for my Lord, my husband's memory and my loved ones than invest in a God-based, stable, well-known, and growing seminary like Asbury?" Donna has also made Asbury Seminary a beneficiary of her estate plan.
Mrs. Harry Snyder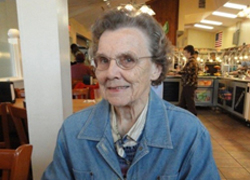 Harry Snyder graduated from Asbury Theological Seminary in 1945. Married the next year, he and Marjorie served churches in the Holston Conference of the United Methodist Church for over 40 years. Throughout their ministry they have been faithful supporters of the poor and marginalized people they encountered. Harry often said that he wanted to help "the needy boys and girls who could not go to Asbury Seminary without some financial help," and he proceeded to do just that. They established the Harry & Marjorie Snyder Endowed Scholarship at Asbury Seminary. Harry passed away in the fall of 2010 and Marjorie has continued with her support of the Seminary. She has now purchased five Charitable Gift Annuities to provide future funding for their scholarship. She intends to do this every fall for the remainder of her life. In addition, Asbury Seminary will be the beneficiary of her estate. Marjorie recently said that God has blessed her abundantly and she wanted to do all she could to help students fulfill their calling to fulltime ministry of the gospel and the church.
Dr. Sam Smith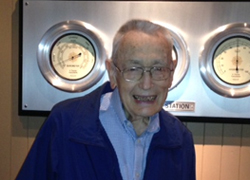 Sam and his wife Mary (now deceased) have been long time supporters of Asbury Seminary through the creation of Endowed Scholarships. They have two children (a son and a daughter) who have completed their undergraduate degrees at Asbury University and the daughter went on to complete her seminary degree at Asbury Theological Seminary. While at Asbury Seminary, she met her husband to be and they have served many years on the mission field. The Smiths have been close to the heart of Asbury for many years. They have been frequent campus visitors, participants in many of our off campus functions, and pioneers in the promotion of our yearly President's Retreats. Alumni across the world count the Smiths as their benefactors.
Pshon Barrett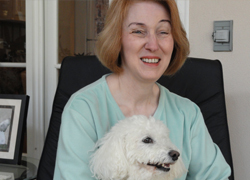 Pshon is passionate about Asbury Seminary and has been quick to tell others about us and about how she came to know us. Pshon has been visually impaired since birth. Yet that has not kept her from acting on her dreams. She has been an assistant DA for over 30 years, is an accomplished musician, maintains her own home, and ministers regularly in her church. Pshon first came to one of our President's Retreats in the fall of 2006 and has been a regular supporter of Asbury Seminary ever since. Recently we began to discuss how she could help with software she has helped develop that would aid other visually impaired students to take seminary classes. She is thinking about taking on-line classes as well.
Mr. and Mrs. Jimmy Prince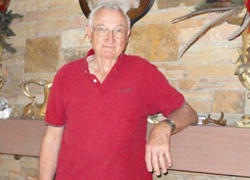 Jimmy and Phyllis have been instrumental in creating two separate scholarships (one restricted and one endowed) for students intending to return to Mississippi pastorates of the United Methodist Church. These scholarships are named after two brothers, Rev. John Case and Rev. Martin Case, both of whom have been leaders in Mississippi for many years and have been instrumental in promoting conservative evangelical Christianity in the model of Asbury Seminary. Dozens of young men and women have benefitted from these scholarships and many are now serving back in Mississippi. Many other donors in Mississippi have been inspired to help fund these scholarships. Jimmy and Phyllis have provided gifts of real estate and other resources to enable these funds to grow over the coming years.
Rev. Paul and Betty Bryant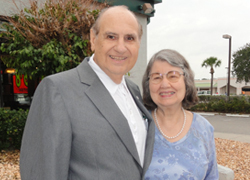 Paul and Betty are longtime donors to Asbury Seminary, primarily through charitable gift annuities. Paul served in the Southern Illinois Conference of the United Methodist Church for many years as pastor, evangelist, and worship leader. The two of them are passionate about seeing men and women, who are called of God, serve in the United Methodist Church. Though not an alumnus of Asbury Seminary, Paul believes that the Seminary produces the very best in candidates for the ministry. He and Betty believe in theological education in the Wesleyan, evangelical tradition as the best hope for the church. They have also created an endowed scholarship that will continue to help provide resources for the preparation of future ministers.
Paul passed away a couple of years ago, and Betty feels so blessed to receive her regular annuity payments. The income provided allows her to continue to live a fruitful life in her Christian witness.
Mrs. Nancy Wagner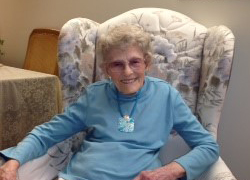 You might not think so, but Nancy is 100 years old. She is quite proud of that status and does not consider that she is in her golden years. She remains a faithful member of her faith and her church. She prays daily for her needs and for the needs of many others. She communicates with the many friends she has made over the years (that is-the ones that are still here with us). She encourages them, she cooks them sweets, she sends notes and cards, and she phones them regularly. She does not believe God is through with her yet.
Nancy has been a wonderful benefactor for Asbury Seminary for many years. She participates yearly in our Wesley Fund campaign and has purchased Charitable Gift Annuities. She really appreciates the investment she made in annuities because it pays her a nice amount each year to supplement her income. But the biggest benefit to Asbury has been her diligent prayers over the years for our staff, faculty, and students. We need more just like her. Is not she just the cutest thing.
Mr. Fred Moser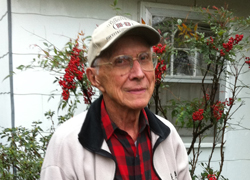 A simple man, Fred Moser has lived all his 92 years in the house that his parents built in 1904. As a young man, he helped manage the small country store his parents opened around the turn of the century. Later he went on to a career in the furniture business flourishing in his area.
Yet, Fred's real story is in his Christian witness. He came to Christ in his early teenage years and has never turned away from his passion for the church, the Word, and fellowship with the body of Christ. Early in life, Fred encountered alumni and professors from Asbury Seminary who made a dramatic impression on him. As he entered the golden years of his life, he decided to leave a substantial portion of his estate to Asbury Seminary to create an endowed scholarship for students from his conference of the United Methodist Church. The legacy of Fred Moser will live on as students are prepared and sent out for the work of the Church.
Mr. and Mrs. Gerald Chapman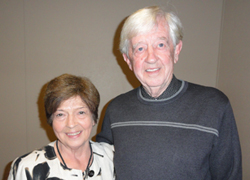 As longstanding friends, Gerald, along with his wife, Dreama, have been involved with Asbury Seminary for many years. They believe the seminary is the finest institution of theological education in the world as it advances its conservative, Wesleyan, and evangelical understanding of the purpose of the church. Currently, they are helping to provide financial resources to students who are pursuing Doctor of Ministry degrees through "The Ph.D. in Wesley Studies Restricted Scholarship." In addition they have initiated the "Gerald and Dreama Chapman Endowed Scholarship Fund."
Berenice Abee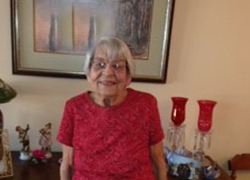 Berenice is one of the sweetest ladies you could ever meet. She and her now deceased husband, Harold, have been faithful donors of Asbury Seminary for many years. They had heard of the seminary a long time ago and decided to take a trip through the area and try to visit campus. They were successful and fell in love with the students, faculty, and campus. Berenice has participated in many of our on campus events and has come to several of Asbury's President's retreats. She is so thankful of the impact she has had on many a student as they pursued their call to ministry.
Several years ago, she purchased a Charitable Gift Annuity and the income she has received from it has provided much needed resources to supplement her life. She has said that she has been so enriched by the ministry of Asbury and is thankful for the income the annuity payments have provided.
Mr. and Mrs. Bob Bell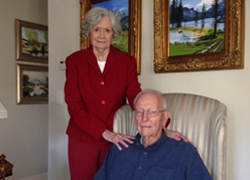 Bob and Bettie Jo discovered Asbury Seminary a little over ten years ago and have been faithful supporters ever since. Bob recently told me why he and Bettie Jo have chosen to bless Asbury. First, it is a seminary that prepares "soldiers for the cross." Secondly, the seminary is soundly rooted in the Wesleyan Tradition. Third, the most important thing to them is that Asbury's students are thoroughly trained in the teachings of the Bible. Their many visits to the campus assure them that the Holy Spirit is present to influence and direct our faculty, staff, and students. They have observed that our students graduate prepared to do the work they are called to do-leading others to hear the voice of God and introducing them to God's Son, Jesus Christ and the Holy Spirit. They have seen the fruit-Asbury Seminary Alumni helping others find the joy in knowing the older brother in a large family, our Lord and Savior Jesus Christ.
The Hearns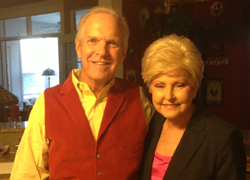 Sandy and I support Asbury Seminary in our estate planning for a fundamental reason: vision. One of my essential verses of Scripture is from Proverbs, "Where there is no vision, the people perish..." (Prov 29:18 KJV). My experience as a student at Asbury helped me develop a personal vision of God's plan for my life and a vision for the Kingdom of God in this world as I pastured congregations all over the United States. Everyone has a vision for life. The only one that is worthy of pursuing is the one God has for this life and the next. Asbury Seminary provides a very rich environment in which every student can acquire a compelling vision for life and ministry. We gladly and joyously have included Asbury in our estate planning because we know that our financial gift will continue to empower that vital experience to students long after we have joined our Lord and Savior in eternity. David Seamands was my pastor in seminary and I will always remember one sermon he preached. In it he asked the congregation which they wanted to be (what vision we had for our lives and ministry): squash or an oak tree. The point: squash can be harvested in six weeks. It takes a hundred years to grow a mighty oak! We want to be a part of an institution whose primary vision is to produce oak trees for God's Kingdom work!